Voki's community is here to let Voki, Voki Classroom, and Voki Presenter users provide feedback, such as Voki product ideas, praise, or other comments/ questions/ concerns. Although not every post here can be answered by a Voki representative, we do read and consider each and every post!
I tried voki in May 2017. It was ok but not something I needed once my job changed. I canceled my account. Suddenly in May of 2018 I am getting charged again and have been for at least the last five month!!! I wasn't even in school!! Why has my account suddenly become active again even though I have not used it in years?!?

Hello - 
You must set your account billing setting to "Automatic Billing" - and your annual account extended automatically when it was time for the license to renew.
We do send out automatic emails btw - you would have been informed, though sometimes emails end up in spam. 
Anyway - if you prefer we'll issue a refund and cancel your subscription.
Just send us a note at support@voki.com and we'll take care of that for you.
I do encourage you to take a close look at Voki - a lot has changed in the past year!  You may want to check it out.
Best,
Gil
Any news or plans to upgrade voki to use JavaScript or some other web technology? Flash is pretty much at end of life.

Hi Jeff - 
A quick update - 
Created characters play in HTML5 (for over two years now) - it is only the editor that is still in Flash.
And users on mobile devices can use our mobile app for editing ( available for iOS and Android )
As for the Voki editor - an HTMl5 version is in the works and will replace the current Flash editor soon.  
Most likely before the start of the upcoming school year.
Best regards,
Gil

Hello!
In our testing, it does save the recording, as well as the background, and all the attributes of the character. 
There seems to be a unique problem on your device - which we are unable to recreate.
Would love to get more information so that we can help.
Did you in fact re-enable permissions for the app to access the image gallery as I suggested?
Was this permission in fact disabled as we suspected?
Did you try saving / downloading new Vokis after making this change?

     (note that any previous save attempts will never "show up" - as access was previously disabled )
Please try again and let me know exactly what you see when you press the Gallery button.
It is also possible that you are running an older version of the app, or that your app installation is bad/corrupt (this is rare).
That's why, if you try again and it still does not work - I recommend clearing the voki app from your ipad and re-installing it from the app store. 
Let me know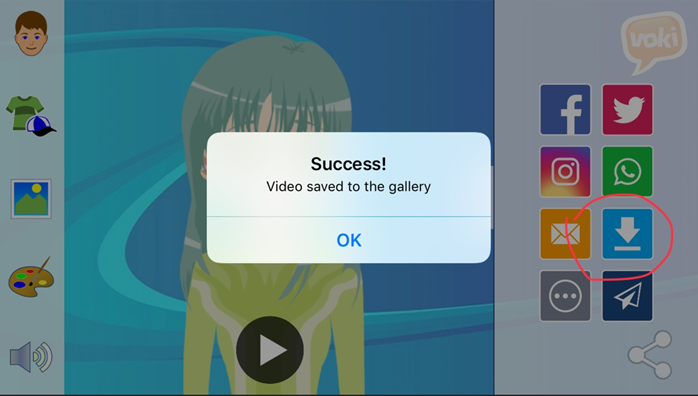 I'm using a free version of the creator for my classes. In the latest, my audio automatically loops, clipping off the last word in the speech-to-text feature. I've used Voki for a couple of years, but I've never had this problem.
Any ideas?

Neither have I - and it is troubling.
For starters I'd like to ask that you clear your browser cache & try again - could be a problem with bad content stuck in your browser cache.
If that does not cure the problem - please contact support@voki.com - describe the problem and include a link to the page where this problem can be seen. We will investigate.

Thanx!